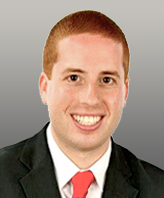 MICHAEL B. NEMEROF, ESQ.
SECRETARY
954-552-4849
mnemerof@heritagepci.com
Michael B. Nemerof is Staff Counsel for Heritage Property and Casualty Insurance Corporation, a Homeowner's Insurance Company. Michael grew up in Cherry Hill, NJ, and moved to South Florida in 2011.
Previously, he worked as an Associate in a firm handling Plaintiff's First-Party Property Litigation cases. He also has experience practicing Insurance Subrogation. In his spare time, he plays Dodgeball and Kickball for the Fort Lauderdale Varsity Gay League. He is also a member of The George Washington University South Florida Alumni Committee. He resides in the Middle River Terrace neighborhood in Fort Lauderdale.

Corporate Counsel

Insurance Law

First-Party Property Litigation